I decided that since I have been a knitter for well over ten years and I have not done a single knit along (KAL), that this was despicable and I just had to do something about it! My local knitting group informed me that Knit Purl Hunter does some amazing KALs and will be releasing a new one very soon. So I quickly went to her website, summed up what supplies I needed, and was off to the yarn store.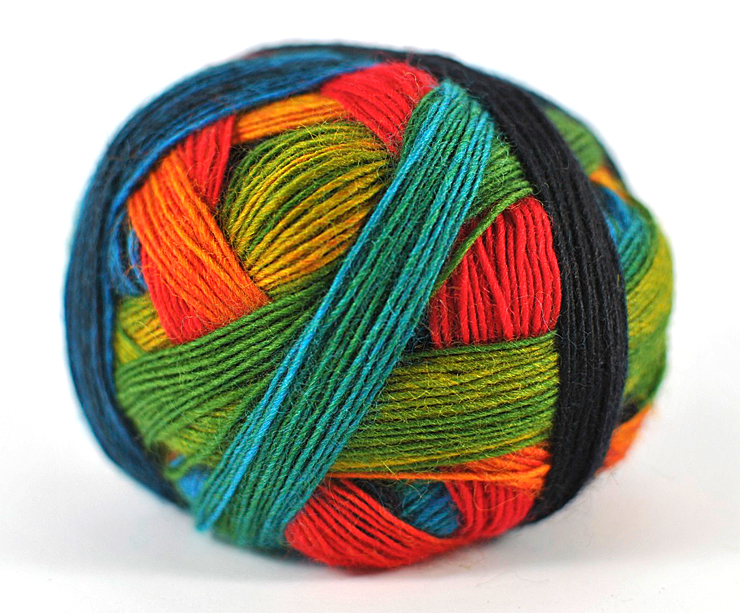 I fell in love with this Zauberball color because it reminded be of my elementary school days. I thought, "How fitting for my first KAL!" I was fortunate enough that my local yarn store was offering ten percent off any knitting supplies for this KAL. I know some knitters will cringe while they read this, but I stopped by my local Joann Fabrics to pick up two circular 30″ needles of the 2.75 mm size.
Side note: My husband lost his job back in May and with me still being in school, I just cannot afford the luxury of Addi Turbos knitting needles right now. But I look forward to the day when I can knit with ease on those sweet babies again!
Anyways, I waited anxiously for October 6th to arrive so I could start these socks because I have never knit socks toe up before. I always knit from the leg down to the toes. As soon as the first part of the pattern was released, I was off to the knitting races (so to speak). I quickly found the pattern to be well written and fairly easy for a new or advanced knitter.


I finished my first sock this past Sunday. I plan on finishing the second sock by this Thursday when the second part of the pattern is released. By the way, it is not to late for you to join in on the KAL!
Cableship Socks KAL
Supplies:
Zauberball Socks, 75%wool/25%nylon, 100g/459 yards, 1 skein
US #2 (2.75mm) or size necessary to achieve desired gauge.  Pattern may be knit with double points, two circulars or Magic Loop method.
Cable needle
Markers
Gauge: Approx. 8 sts = 1″ in stockinette
Size:
Small – leg circumference measures approximately 5" unstretched and stretches comfortably to 10".
Medium – leg circumference measures approximately 6" unstretched and stretches comfortably to 12".
Large – leg circumference measures approximately 7" unstretched and stretches comfortably to 14".
Further size adjustment may be made by changing needle sizes.
First part of the KAL: Cableship – Part 1